At MCCH MedSpa we offer a variety of ZO® Skin Health Products that will restore skin to a healthy state. ZO® Skin Health was developed by Dr. Zein Obagi, a skincare industry leader, whose research revolutionized in the 1980s. This scientifically-backed line of skin care products stands apart from other products and lines as one of the mose effective on the market today. These products are medical-grade, meaning they are only available from approved practices and used as part of a physician led skin regimen. We take the time to understand each individuals unique skin and their concerns to formulate an effective skincare regiment specifically tailored to each person. ZO® Skin Health carries a wide range of products that can treat a large variety of issues such as; dry skin, wrinkles, uneven skin tone, texture, blemishes, sun spots, and more. At MCCH MedSpa we carry a variety of products in house and have the ability to order products. Please keep in mind, products we offer are on an order basis due to each regimen being tailored to each individuals skin types and problems.

---
ZO® Getting Skin Ready Line-
Gentle Cleanser- Containing Sodium lauroyl oat amino acids and a botanical extract blend to deeply clean and remove oils, makeup and other impurities. This silky gel is ideal for any and all skin types.
Exfoliating Cleanser- This cleanser helps to keep pores clear and minimize breakouts. Using a purifying gel formulation provides both physical and chemical exfoliating benefits. Using jojoba esters, salicylic acid, and vitamin E beads to clear away surface oil or impurities and not leaving the skin feeling stripped or dry.
Exfoliating Polish- Using ultra-fine magnesium oxide crystals and tetrahexyldecyl ascorbate to exfoliate dead skin cells and other debris to leave the skin looking radiant and feeling soft and smooth.
Complexion Renewal Pads- These pads help to brighten skin and clarify pores without drying the skin. The key ingredients used to create these brightening pads are glycolic Acid + Salicylic Acid, a Botanical extract blend, and the textured pads themselves.


---
ZO® Prevent + Correct Line-
Daily Power Defense- This cream defends skin against oxidative damage from free radicals, accelerates barrier restoration and skin hydration, and visibly reduces signs of premature aging.
Illuminating AOX Serum- This product delivers advanced environmental protection, supports healthy skin, blurs imperfections, and visibly reduces premature signs of aging and restores youthful luminosity to dry and dull skin.

10% Vitamin C Self-Activating- 10% vitamin C that brightens skin, promoting a more even skin tone and minimizing the appearance of fine lines and wrinkles.

0.5% and 1% Retinol Skin Brightener -A retinol-based solution that rapidly improves the appearance of uneven skin tone for brighter, clearer and smoother complexion. Specially encapsulated to deliver a targeted, controlled release of retinol for maximized brightening.
Rozatrol- Serum for red, sensitized skin that works to reduce excess surface oil. Exfoliating properties provide ultra-mild exfoliation to encourage cellular turnover and reduce the signs of premature aging.
---
ZO® Eye Care-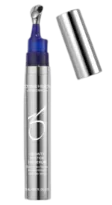 Growth Factor Eye Serum- Powered by clinically proven ZO® Growth Factor technology, Growth Factor Eye Serum is designed to help improve the appearance of expression lines, creasing + hollowness while plumping + encouraging healthy skin for a visibly revived look. The cooling applicator soothes the skin + re-invigorates the look of tired eyes.
---
ZO® Protect Line-

Sunscreen + Primer Broad-Spectrum SPF 30- This dual-action sunscreen, with ZOX12® complex, protects against the damaging effects from UVA/UVB and IR-A rays, and from HEV light. Hydrates and doubles as a makeup primer for a smooth matte finish, diminishing skin imperfections.
Smart Tone Broad Spectrum Sunscreen SPF 50- A lightweight sunscreen with a self-adjusting tint that complements most skin tones while providing a healthy, hydrated glow. Featuring an exclusive antioxidant complex while protecting against the aging effects of UVA/UVB, IR-A rays and HEV light.
---
ZO® Body Care-

Body Smoothing Crème- Body Smoothing Crème is a breakthrough treatment clinically proven to promote a more toned, contoured and smooth appearance. Ideal for use on the entire body, it complements results of in-office body treatments.

---
ZO® Programs and Kits-
Skin Brightening Program- A multi-product skincare system designed for the improvement of visible discoloration without the use of hydroquinone and retinol.
Gentle cleanser
Exfoliating Polish
Complexion Renewal Pads
Daily Power Defense
Brightalive