MCCH MedSpa offers facials for all skin types to enhance natural beauty and rejuvenate the skin. Our MedSpa uses a variety of ZO® Skin Health Products and our amazing SharpLight Omnimax S4 to have you looking and feeling your best.

---
ZO 3-Step Peel®

The ZO 3-Step Peel® is a potent peel to maximize and improve the texture of the skin and produces longer-lasting results. This exclusive blend potent exfoliants: salicylic acid, trichloroacetic acid and lactic acid remove the outermost layers of the skin. Reinol Creme Complex works in addition to the initial exfoliation to boost skin renewal for longer-lasting skin benefits. Peeling is mild, with little to no downtime. Designed to improve the appearance of fine lines and wrinkles, hyperpigmentation, sun damage, acne scarring, texture, large pores and dullness. This peel promotes softer, smoother, and firming looking skin. This peel is suitable for any skin type or color and can be repeated every 3-4 weeks if desired.
ZO Stimulator Peel®
The ZO® Stimulator Peel incorporates three essential formulas that prep, peel and neutralize the skin so it looks and feels healthier without the irritation or down time. The prep formula breaks down the lipid barrier to prepare the skin for enhanced penetration of the peel into the epidermis. Then, the peel solution, which utilizes a combination of alpha hydroxy acids, is applied to provide both epidermal exfoliation and renewal. Finally, a neutralizer is applied to calm and soothe the skin while restoring it back to a normal PH balance.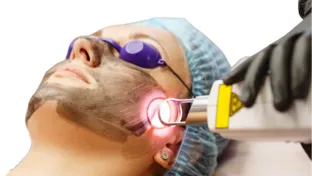 Laser Carbon Facial
This SharpLIght laser treatment is performed by applying a layer of carbon lotion to the entire face and allowing it to dry over a period of 10 minutes. The Nd:Yag Q-Switched laser is used to heat and blast off the carbon particles. The laser light is absorbed by the lotion, focusing the laser on the epidermis. As the laser moves across the skin, the carbon lotion is gently blasted off, exfoliating the skin and removing debris in pores. This treatments thermal effect produces the ability to stimulate collagen production, leaving flawless and youthful looking skin.
---
Pricing