Needing a refreshing boost for your skin? With our modern laser treatments we can target your specific concerns, we can help improve the appearance and the health of your skin. Using our Sharp Light: The OmniMax S4 we can deliver effective solutions for hair removal, skin rejuvenation, body contouring, tattoo removal, pigmentation, vascular lesions, and more! The Sharp Light has patented "DPC Technology" utilizing three pulse modes to permit easy configuring to permanently destroy those hard to eliminate hairs, veins, and pigments. Not only is our laser effective, but it has a built-in Peltier cooling system creating a pain-free and comfortable treatment for you! Below is a list of our services and pricing.
---
Laser Hair Removal
Imagine never having to take care of unwanted hair ever again! Our Sharp Light: The OmniMax S4 has Dynamic Pulse Control technology that effectively targets the hair follicle without harming any other parts of the skin. During the treatment, the heat energy denaturizes the melanin in the hair follicles, resulting in the follicle being unable to regrow, bye unwanted hairs! Laser hair removal is one of the most common cosmetic procedures in the United States. Depending on the thickness and color the hair will become lighter and thinner after a few sessions. This procedure can take 6-10 sessions, depending on the area being treated.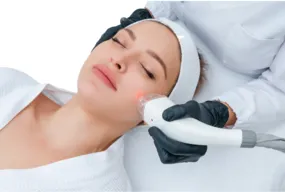 Laser Skin Rejuvenation
Our skin is being constantly exposed to so many damaging factors; UV rays, pollution, smoke, all of which can age our skin permanently. Each individual laser skin rejuvenation treatment is a tailored experience based upon skin condition. We use our SharpLight solutions three powerful non-invasive technologies Dynamic Pulse Control, InfraRed, and Radio Frequency to give you the best results. Pulses of light will be used to tighten the collagen fibers and stimulate the production of new collagen. As a result, the skin immediately will appear revitalize and able to restore elasticity.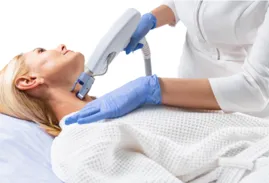 Vascular and Pigmentation
SharpLight's non-invasive systems effectively treat and clear vascular and pigmented lesions. SharpLight's innovative tools use pulsed light technology to target and apply light to affected areas. This coagulates the blood vessels and breaks up pigmented lesions into small particles. Eventually, these then disappear or rise to the surface as a typical scab. Pulsed light is a safe and effective way to treat lesions and restore skin with no down time.
Laser Skin Tightening
Laser Skin Tightening is a cosmetic procedure to promote production of collagen and elastin, tightening the skin and giving the face a more youthful appearance. Using our SharpLight's leading skin tightening treatments, attain firmer looking skin. SharpLight's technologies are helping our patients defy time in a non-invasive and effective way. The skin tightening treatments apply a combination of our three SharpLight technologies; Pulsed Light, Radio Frequency and Infrared technologies. These technologies encourage the removal of damaged skin cells to stimulate the production of new and healthy collagen fibers to fill in wrinkled and damaged skin.
Fractional Laser Treatments
Using our SharpLight's Fractional Laser technology we can structurally change the skin's scar tissue and natural appearance. This treatment is a non-invasive, fast and effective treatment to give a smooth complexion. Unlike most lasers, using our SharpLight we can target a 'fraction' of the skin. Our laser is able to do this by ablating micro-columns of the skin. These columns are separated by healthy tissue, which helps to quicken the recovery period. The depth can be adjusted based on each area of the skin. The Fractional laser is significantly more gentle and offers way less down time than other lasers. If that wasn't good enough, this process will create an ongoing tightening of the skin during the healing process.
Tattoo Removal
Tattoo removal is a procedure to remove permanent ink from the skin. Our SharpLight laser technology is used to target the ink of a tattoo to apply localized pulses of light to decompose the tattoo's pigment. The body's immune system will then break up the small ink particles over several weeks' time. SharpLight's technologies include varying spot sizes and other customizable settings to ensure the most effective removal with the lowest risk of side effects. While the number of treatment sessions depends on the color, size and placement of tattoo, all profiles can be effectively and safely treated.
---
Pricing